Outdoor Entertaining Decorating Ideas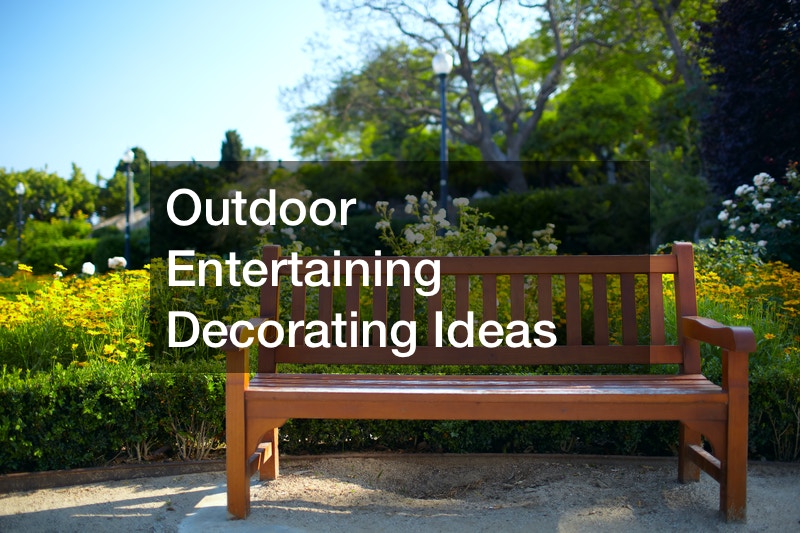 There are many benefits that come from an outdoor space for entertaining. It's a luxury to have an outdoor living space like a beautiful back patio or a stunning deck where you can go outside to relax. If you want to create the ultimate outdoor space, you can go the extra mile by building a pool to cool yourself on hot summer days, creating a shade with a pergola, setting up a trellis, or adding a mesmerizing water feature. There are many options to choose from to customize your outdoor entertaining space according to your needs. You can also customize your space with these fabulous outdoor entertaining decorating ideas.
Add Outdoor Lights
The excellent news is you have many outdoor entertaining decorating ideas to choose from when it comes to lighting. You can add more illumination to your entertaining space with a variety of fixtures that create different effects. Your main options include lanterns, chandeliers, pendants, and track lighting. Pendants are a great option because they come in various styles and shapes and they look pretty suspended above your head. Your selection includes drum pendants, bell pendants, mini pendants, and more. Next, you have chandeliers, which are a type of pendant lighting that typically hangs from a rod or chain. They are often used to create a more elegant and sophisticated outdoor setting.
Another option is hanging lanterns, and these are also great because of their versatile features. You can choose from pendant lanterns and wall-mounted lanterns. Still, another option is track lighting, which requires a track fixture. These options will help add a welcoming feel to your space while providing the right amount of illumination and emphasizing the best features of your landscaping. Remember to choose fixtures with a color and finish that complements the rest of your outdoor decor. It's also wise to invest time in creating a strategic lighting layout and placement to optimize the way your space looks.
Mix Greenery With a Pop of Color
Interacting with greenery and natural spaces comes with many social, mental, and physical benefits. That said, you can get the most benefits by incorporating outdoor entertaining decorating ideas that also add a pop of color to your landscape. When you brighten up your landscape in various ways, this adds more visual appeal that has a positive impact on you whenever you're relaxing outdoors. There are various ways to create a more colorful space, such as adding colorful flowers and incorporating colorful plant containers that contrast nicely with the flowers planted. Colorful plants are especially effective at brightening up your outdoor space, so make a point of adding flower-filled pots and hanging baskets.
Other ways of adding color to your landscape include using colorful furniture. It's easier to find colorful cushions and throws with eye-catching designs, or you can give your wooden furniture a much-needed coat of bright paint. You can also incorporate bright and colorful tiles into your stepping stones, outdoor kitchen, or water features. Still another way to add color is by carefully selecting your decor, such as wind chimes, garden statues, wind spinners, and cute ornaments. Whether you create a planting bed of annual flowers or add colorful foliage, you can add more beauty to your outdoor space, and this will give it a refreshing look.
Add Outdoor Area Rugs
Adding flooring is one of the best outdoor entertaining decorating ideas that helps transform your space. It's a great option if you want to create a defined space for relaxing with family and friends. When you choose the right outdoor area rugs, you can easily create a cozy and warm space that feels like home. Remember, outdoor area rugs have to have certain features to be suitable. For instance, it's important to find outdoor area rugs that are durable, low maintenance, and can withstand exposure to the elements. Fortunately, you can find many options whether you're looking to outfit your outdoor kitchen, poolside seating area, patio, backyard gazebo, or deck.
Your options for dressing up your outdoor entertaining space include woven rugs and carpets that manage to look good even with large amounts of traffic underfoot and which can stand up to dirt. You can add more character to your flooring by choosing intricate and intriguing patterns. Carpets are typically a great option if you want the same level of comfort you're used to enjoying indoors. When you're seated and relaxed, high-quality outdoor carpets can provide your feet with a more luxurious resting place. Similarly, outdoor area rugs are durable, have a decorative appeal, and impart a cozy and welcoming feeling.
Invest In Tabletop Decor
Your outdoor entertaining area is never complete without the right table decorating ideas. When you choose the right outdoor tabletop decor, you can easily take your reputation as a host to the next level. The good news is that you can enjoy a lot of flexibility whether you're looking to create a casual setting or something more opulent and luxurious. However, before you start selecting your ideas, be sure to choose a theme for your table decorations so that everything flows well together.
Decide what colors you'll use and make sure it aligns with the occasion. Most importantly, don't forget to add a centerpiece that will wow and impress your guests. Popular ideas for centerpieces include plants, flowers, fruit bowls, sculptural pieces, and lanterns. Moving on, one alfresco table set-up you might love to explore for special occasions is the addition of dainty white chine and stylish glassware. Other decor ideas include adding a patterned tablecloth and accessories such as vases and candleholders.
Decorate According to the Seasons
You can add more flair to your outdoor entertaining space by keeping up with the seasons. For instance, when spring rolls around, it's the perfect time to plant spring flowers in your yard. It's also time to get decorative with lighter colors. Spring decor can be reflected in the colors you choose when selecting your seating, cushions, lighting, containers, and plants. Is Christmas around the corner? Your outdoor decor can help immerse you in a festive mood if you incorporate ideas, such as hanging Christmas lights on your roof and adding Christmas patio or deck decorations.
Add Shade With Umbrellas and Awnings
The idea of entertaining outdoors is usually popular as the weather starts to warm up and people venture outdoors to commune with nature more. However, as summer progresses, the temperature also starts increasing, so it's a wise idea to add shaded spots to your outdoor entertaining space. If you have trees in your yard, chances are you already have one or two spots that get shade, but it never hurts to add more with umbrellas and awnings. Luckily, you don't have to hire a roofing service to add shade, as outdoor umbrellas and awnings are generally easy to install.
When shopping around, be sure to explore all your options to find something that provides enough coverage to protect you from the elements. For instance, you should consider things like cost, expected lifespan, and the amount of protection provided to decide which option is best for you. If you have a patio or deck, you might find that a retractable awning protects better since it's typically larger than the average outdoor umbrella. Having the right amount of sun protection on hot days will go a long way towards ensuring you stay as refreshed as possible, so you can enjoy more outdoor living.
Implement These Tree Decor Ideas
If you need outdoor entertaining decorating ideas that add extra personality to your space, consider some DIY tree decor. The trees in your yard already come with a lot of benefits. They add more privacy and reduce noise pollution while providing you with cleaner, fresher air. This is especially true if you perform regular maintenance like tree trimming. Working with a professional tree service can help boost the health of your trees. Most arborists or tree companies offer a wide range of services, such as tree surgery, arboreal inspection, and relocation that help you make the most of your space.
When it comes to DIY tree decor, you can explore ideas, such as yard lighting tree stumps that help to light up the area so you can comfortably enjoy warm evenings outdoors without being overwhelmed by the darkness. Decorative tree stumps are a great and popular idea that you can also leverage to add more seating and different types of lighting to your landscape. If you're hosting a special occasion, you can make the occasion even more notable by adding wrapped and hanging fairy lights. Alternatively, you can opt for something cute with some gnome tree craft and tree hanging candy poppers. Have fun getting decorative with your trees!
Focus On Landscaping
Your list of outdoor entertaining decorating ideas shouldn't just focus on one point of your landscaping, such as a dedicated seating area. It's a better idea to focus on the rest of the landscape because this will also set the stage for a beautiful outdoor entertaining experience. Thankfully, there's no shortage of landscaping ideas that can help you achieve your desired result. For instance, something as simple as adding a walkway or stepping stones that leads to your entertaining space. Stepping stones or pavers create interesting points where your eyes can rest, and they also provide visitors with a clear path to follow to avoid walking on the grass.
Other affordable ways to improve your landscaping include planting perennials, such as tulips and hydrangeas, which add a pop of color to your landscape with each growing season. You can also repurpose items such as old wheelbarrows and barrels as planters – these can garner positive interest from your guests and neighbors and can make for great talking points. Adding an above-ground pool is another great idea if you don't want the hassle or cost of hiring a pool excavation service. This will be handy on days when the temperatures are swelteringly hot, and everyone wants to cool off while having fun.
Add Some Creative Art
When looking for outdoor entertaining decorating ideas, the trick is to envision your yard as a blank canvas that can be transformed into a beautiful work of art. After implementing many of these outdoor entertaining decorating ideas, you'll notice your outdoor space slowly coming alive. You can improve the effect by carefully handpicking various pieces of art that blend well with your landscaping. Incorporating creative art pieces into the scenery will help add a ton of interest to your space. It's important to find art that resonates with your personality and style, whether you're choosing yard signage, garden gnomes, hand-painted ceramics, or carved pieces of wood.
The good news is you don't need to have artistic talent to beautify your landscape with art. That said, you do have the upper hand if you have your own art pieces that you can display and which reflect your unique style. When deciding how to make your entertaining space artsier, it's important to make choices that really resonate with you. Do your research to discover the different types of art that you find appealing and to which you're naturally drawn. You should also take note of your preferred style, whether it's sophisticated, elegant, boho, or somewhere in between. The best way to really set the tone and atmosphere is to have a large focal piece surrounded by smaller pieces, but be careful of ending up with too much art clutter.
As you can see, there are many outdoor entertaining decorating ideas you can implement to make the most of your outdoor living. Whether you decide to hire a deck building contractor, a patio contractor, or a concrete patio company, you can enjoy transforming your outdoor structures with these decor ideas once they're finished. As mentioned, outdoor living comes with several benefits, such as reduced stress levels and strong bonds with family and friends. When you invest the time in implementing these outdoor entertaining decorating ideas, you can create a more exciting, interesting, and inviting space that you can enjoy for many years to come.