Recipies for Restaurant Food at Home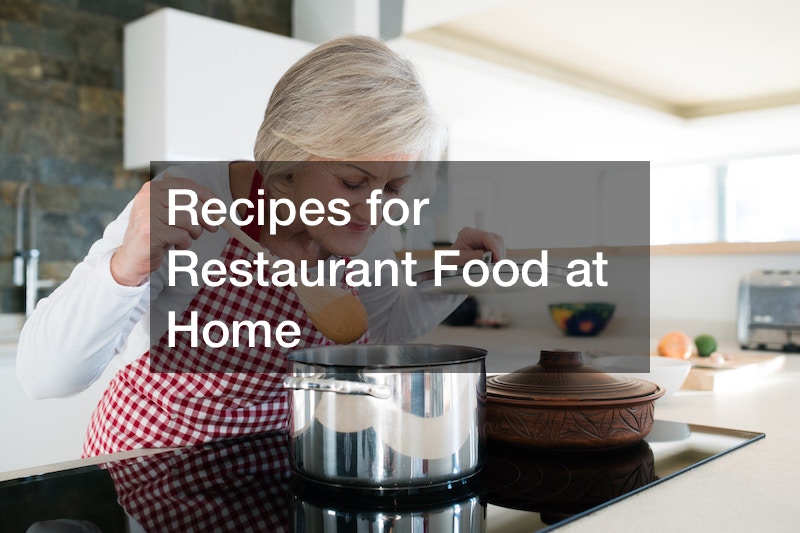 Most of us look forward to eating out at restaurants for the convenience of ready-made food that's cooked to perfection. The majority of us do not consider that we can achieve standard restaurant meals at home, even with the right recipes and ingredients. But you'd be wrong! Many of your restaurant favorites can be recreated at home. If you value the joy of experiencing new exciting cuisines, get inspired by these recipes for restaurant food at home.
Homemade Pizza
The pizza had to be first on our list of recipes for restaurant food at home. With an oven, all-purpose flour, yeast, your favorite vegetables, a choice selection of meats, and lots of cheese, you can create a pizza that beats your best takeout joint. For preparation, you need to bloom the yeast by mixing it with sugar in warm water. Give the mixture at least 10 minutes and check to see the formation of bubbles on the surface.
Combine the mixture with olive oil, flour, and salt in a bowl to create a shaggy dough. Put the dough on a flat surface and knead for 15 minutes until it is soft and bouncy. Grease the bowl with olive oil, place the dough inside and cover it with plastic wrap. This dough should be left to rise for at least an hour to 24 hours.
Turn the dough onto a floured surface and knead for at least a minute. Proceed to cut it into four equal round portions. Cover these portions with a kitchen towel and let them rest for about 30 minutes to an hour. Take this time to chop your vegetables and blend your sauces.
Preheat your oven to 500 degrees Fahrenheit or 260 degrees Celsius and slide in a pizza stone, heavy baking sheet or cast-iron skillet. Put your rested dough and roll it out thinner than you think it should be because it will puff up when baking.
Pour the sauce on the rolled-out dough and place your veggies or meats and sprinkle as much cheese as you fancy on top before sliding the pizza onto the preheated stone or pan. Let it bake until the crust and cheese turn golden brown. Research a pizza shop that allows you to customize or make your pizza to learn about pizza recipes.
Chicken Taco Salad
Mexican food distribution is known for supplying delightful tacos. Consider this delicious taco recipe, a healthy vegan combination of salad and chicken. Use taco seasoning to coat both sides of the chicken breasts and cook the chicken in oil and butter over medium-high heat. Cook for about 4 minutes until golden brown and done inside and out.
While the chicken cooks, make your salad dressing using bottled ranch dressing which you should pour into a bowl with salsa and cilantro. Prepare your salad by grilling your corn ears until there is some color on the outside. Slice off the kernels and dice your chicken into cubes.
Take a bowl and place your shredded lettuce, diced chicken, corn, green onions, avocados, cilantro, tomatoes, cheese, cilantro, and crushed chips. Drizzle your pre-prepared dressing over the mixture in the bowl and serve.
Avocado Chicken Egg Rolls
Rolls are quick and filling meals; we find them irresistible and easy recipes for home restaurant food. This is one classy meal that does not require any special restaurant electrical services. With just a pan over high heat, add canola oil and saute red onions and bell peppers until they are translucent.
Once done, reduce the heat to medium heat, add ginger, celery, garlic, chicken, and bamboo shoots and cook for five minutes. Take a bowl and mix in chicken, cabbage, and carrots. Heat rice bran oil to 350 degrees. The oil must be deep enough to keep the egg roll from sticking to the bottom of the pan.
To make perfect egg rolls, the lay-out egg roll skin corner should face you and be filled with the bowl's mixture with two avocadoes on top. Fold the outside corners over the mixture and seal with egg wash. Submerge the egg roll in frying oil and fry for about four minutes before draining excess oil on a sheet tray. Let the rolls cool before serving.
Kung Pao Spaghetti
You may be forgiven for imagining that you require a complete kitchen and bath remodeler before attempting recipes for restaurant food at home. However, in just 30 minutes, you can take a trip to China and put a hold on that food delivery app. All you need for this tasty recipe is chunks of stir-fried chicken, toasted peanuts, pasta, and some sauce.
Boil a large pot of salted water and cook the spaghetti following instructions. Whisk two tablespoons of soy sauce in a bowl with mirin and add chicken pieces. Take another bowl and mix chicken broth, vinegar, sesame oil, soy sauce, chilli sauce, and sambal.
Put at least half of the canola oil on a heavy-bottomed skillet and heat over medium-high heat. Toss the chicken in half a cup of cornstarch, dip it into hot oil, and cook until it turns brown. Using two tablespoons of the leftover oil, cook peanuts and add scallion, garlic and chiles for about one minute. Add broth to the skillet and boil it, then add the chicken and pasta. Toss the ingredients until they are fully coated and hot. Finally, serve and enjoy.
Italian Nachos
If you are wondering about an appetizer to celebrate your new home fitted with a custom kitchen, try these Italian Nachos recipes for restaurant food. Giving off a Mediterranean vibe, get some tomato, pepper, ricotta, caper salsa, and mozzarella cheese to surprise your guests.
Put ingredients in a nonreactive bowl and set aside for flavors to blend in. Over medium-high heat, add olive oil to a medium-sized saute pan. Cook the ground beef and turkey sausage until fully cooked. Move them from a pan to a plate and saute the onion until it turns opaque. Stir in garlic and cook for two more minutes before returning the meat mixture to the pan.
Combine cheese and sour cream using your blender and pour it into a resealable bag. Over medium heat, put in oil and lower wrappers into the oil. When they get puffy, flip them over, sprinkle with salt and place them on a paper towel.
Layer some chips and meat mixture and sprinkle everything with mozzarella. Repeat the layers and finish with cheese. Put the dish in an oven until the cheese melts. Remove from the oven and top with salami, salsa and fresh herbs. Drizzle sauce over nachos and sprinkle green onions and pepperoni before serving.
Kobe Sliders
These burgers will look good on your new countertop installation. Enjoy a gourmet meal made with aioli and caramelized onions between two soft buns. Heat olive oil in a skillet and add onions. Reduce heat and stir until onions turn golden. Add two tablespoons of bourbon and add butter until melted. Then add the sugar, salt, and pepper to taste until little liquid is left.
You will need two cups of mayonnaise, one tablespoon of tequila, two tablespoons of fresh lime juice, three tablespoons of pickled jalapenos, fresh cilantro, and ground pepper. Preheat the grill to medium-high and place the pre-cut four-ounce patties seasoned with garlic, salt, and pepper. Grill for about four minutes and top with caramelized onions cooking for three more minutes.
Brush the buns with butter and toast and grill them for about a minute. Use a tablespoon of aioli to brush the inside of the bun and top the burger with a lime wedge on a skewer.
Zuppa Toscana
You can enjoy this entrée with just a few simple steps for soup lovers. Cook your bacon in a large oven over medium-high heat and occasionally stir until it's crisp. Using a slotted spoon, transfer them to a towel-lined plate to drain off excess oil. Add Italian sausages to the strips of bacon and cook until they are brown. Then transfer them onto a towel-lined plate.
Next, add potatoes, garlic, and onions and cook by occasionally stirring until they are softened. Use pepper flakes, pepper, and salt to season. Add the chicken broth and boil over high heat. Lower the heat to medium until the potatoes are nicely done. Finally, you can add the kale, bacon, sausage, and heavy cream for another five minutes. Top this with a splash of vinegar.
Skillet Brownies
To end your dinner party in style, bake his recipes for restaurant food brownies. Start with preheating your oven to about 350 degrees. Melt four ounces of unsweetened chocolate chip and butter in a bowl over simmering water.
Take another bow and stir coffee, vanilla, sugar, and eggs. Allow this mixture to cool to room temperature. Again, use another bowl to sift ¼ cup of flour, baking powder, and salt before adding the mixture.
Toss the remaining cup of chocolate chips and one tablespoon of flour, and then add them to the chocolate mixture. With a three-and-a-half-inch cast iron skillet, place them on a sheet pan. Whether your oven is electric or powered by propane gas, give this incredible recipe a go.
Chinese Chicken Salad
Our love for Chinese takeout takes us back to famous, filling, and simple recipes for restaurant food. First, preheat the oven to 350 degrees Fahrenheit to nail this recipe. Next, place the chicken on a flat surface, rub olive oil all over the skin, and sprinkle with salt and pepper.
Give it 35 to 40 minutes to properly cook the chicken, then place it to the side until it is cool. Take your chicken, strip it off its bones and discard the skin. Then cut the chicken into large bite-sized strips and blanch the asparagus in boiling water until it's crisp and tender. Once done, plunge them into ice water to halt the cooking. Try to cut asparagus to match the strips of chicken. Combine the chicken, asparagus, and pepper in a large bowl.
The final step is to combine the salad dressing ingredients and pour them over the chicken and vegetables. Lastly, add scallions and sesame seeds plus seasonal flavor to taste.
Tips for Executing Recipes for Restaurant Food at Home
Here are some helpful tips if you are wondering how to implement these high-level meals. First, pick a dish that is out of your ordinary and more extravagant considering the number of ingredients, cooking technique, or the time it takes to cook. Aim to treat yourself with this meal.
For the best results of your recipes for restaurant food, plan to go shopping at the market and through a few appliance stores. With prior preparation, you can figure out how to infuse your food with a pop of culture or some crunch to make it more interesting. If you run Maytag appliances, ensure that you request a Maytag repair to keep things running efficiently.
Another great tip is to splurge on salt and butter. Just like the professionals, do not skimp on using these two ingredients because they work to add and retain flavour in foods. Do not forget a good presentation as you serve up your gourmet meals. Wrapping with parchment paper to hold your food together and keep all the juices adds to the overall experience of your homemade recipes or restaurant food.
Lastly, after all the effort you put into your recipes, it would be best to call a friend or family member to enjoy this delicious meal. Make a date with someone you rarely meet up with to add to the newness of the experience.
Regardless of the equipment and set-up, you have at home, cooking recipes for restaurant food are designed to promote world-class experiences. Remember to sieve out the solid waste to avoid getting pipe blocks that require a plumbing service to clear.
With these recipes, it's possible to enjoy restaurant luxury in the comfort of your own home. Try one or all of these dishes today!