Should You Get a Roof Repair or Replacement? Heres How to Decide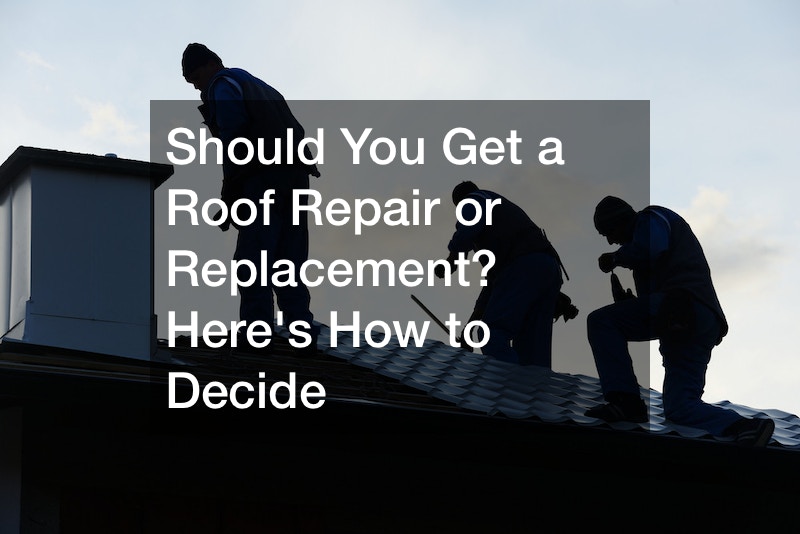 You might need to consider which roofing services to hire, whether you are a business entity or a homeowner. Specifically, you might need to know whether you need a contractor to replace or repair your roof. This decision can be challenging, but you can make a wise one by reviewing several factors. Here's how to decide which of these options is the right one.
Consider Your Roof's Age
The age of your roof is the first thing to consider when deciding which roofing services to hire. A typical roof can last up to 30 years if it doesn't endure harsh weather. The length of a roof's life varies significantly according to what type of material it consists of as well.
Slate roofs have a reputation for lasting the longest amount of time. The average roof may have a 30-year lifespan, but a slate roof can last up to 150 years. Thus, you need to consider those factors first. If you have a slate roof, you can probably choose to do repairs instead of paying for a full replacement.
However, you also need to know how old your home is and how long that particular roof has been on top of it. For instance, a slate roof may need to be replaced if the home is 150 years old or close to it. Research your roofing and your home's age by looking at documents and trying to find out if any repairs have already been done, and that information should help you decide what to do.
Think About When You're Selling Your Home
You'll also need to consider when you plan to sell your home before you decide which roofing services to hire. For example, it might be acceptable for you to spend money replacing the roof if you plan to stay in the home until the end of your life. The investment you make will keep you and your family members dry and secure.
You might also be interested in hiring local roofers to replace your roof if your goal is to raise the value of your home for sale in the next few years. However, you might just want to limit your expenses to paying only for the necessary repairs if you intend to offload the house anytime soon. Then you may prefer only to spend enough to get the roof in an acceptable condition.
Consider all of those things when deciding whether to buy a new roof or have it repaired. The cost of a brand-new roof can be anywhere from $3,000 to $30,000 or more. Roof repairs are less expensive, maxing out at about $1,200. There are some unusual circumstances that might drive that high-end price upward. However, you will typically save money by choosing to repair the roof rather than replace it.
Keep the Material in Mind
As previously mentioned, the type of roofing you have will make a huge difference when considering which roofing services to hire and what you want your roofing contractor to do. There are various types of roofing, and they all have different expected lifespans. These are some of the types of roofing your home may have:
Asphalt
Asphalt doesn't have the longest life. It's gorgeous but will only last between
12 and 30 years. The sun's heat can do a number on this material, making it more susceptible to degradation. Thus, you may want to replace asphalt shingles rather than repair them if you know they haven't been replaced in many years.
Slate
As mentioned before, slate is very long-lasting and can remain in excellent condition for up to 150 years. Thus, you can lean toward the side of not replacing an entire slate roof if your house isn't that old and the issue is only minor.
Zinc
Zinc has an average life span of 70 years to 100+ years. There are many benefits to having a zinc roof, and one of them is that it's moisture, rust, and corrosion-resistant. Thus, it can last and stay looking gorgeous for a very long time.
Copper
Copper can last longer than 100 years if you treat it well. Therefore, you might not need to replace a copper roof, and you might be able to get away with a repair.
Concrete
Concrete is a tough substance that makes excellent roofing material. Thus, you may want to go ahead and only do repairs on concrete rather than replace the whole thing. A good concrete roof can last from 40 to 80 years, which is at the lower end of the longevity spectrum. Thus, you'll need to do a little research to see when your home was built and how long it's been covered by that concrete.
Understand the Profit You Could Receive
The next thing you'll want to do is get an idea of what type of profit you can gain from your investment in roofing repairs or replacement. Choosing roofing services to hire with an open mind and a clear idea of how much you want to profit from this experience. You will need to speak to roofing experts about the shingle roofing, cost of supplies, labor costs, etc. Then you will need to measure those against your budget and how much you intend to sell your home for.
Even if you don't plan to sell your home, you'll need to consider the rental price you'll ask your tenants to pay and other factors. It all depends on what you plan to do with your home to make money from it. Take your time calculating the costs of the work and overestimate a little to avoid making mistakes. Then write down the highs and lows of what you can make. You'll find out which options are best for you by using that strategy precisely.
Look at How Much Damage There Is
Another thing you'll need to pay attention to is the amount of damage your property or roof has. Do this before you choose which roofing services to hire. The amount of damage you have should play a significant role in determining whether you should replace or repair the roof. Some roofs have damage from hailstorms, tree-falling incidents, and other happenings. It would be wise to get an estimate for repairs to these issues before you move forward with your project.
For example, you would need to contact a hail damage roofer to discuss the costs of repairing your roof to try to rectify the damage it has from the hail. The roofer will give you an estimate after reviewing the damage, considering the necessary materials, and calculating the labor costs. You will then want to speak to another roofer about how much it would cost to replace the entire roof.
Compare those figures and then decide how you can get something done using the least amount of money. You might find that replacing the roof is less expensive than attempting to make repairs in small areas. It's wise to consult with multiple companies to get a good idea of the price. Pricing varies according to experience, tenure, location, and the materials you want to use for your project.
Consider Your Budget
You will need to consider your budget while you are deciding which roofing services to hire. It should be one of the first steps you take before making the final judgment on whether to purchase a new roof or pay for roof maintenance. Discovering your budget requires you to do some calculations. What you'll need to look for is your disposable income. That factor is equal to your total monthly income minus your total monthly expenses. The figure you end up with will be the amount of money you can spare for monthly payments if you have to get some of the roof work financed. You'll also need to dig into your bank accounts and see how much is available to use for your project.
Another thing to look at is where you can get additional money. You can do many things to raise funds to put toward this roofing project. For one, you can look around your house to find any electronics, furniture, and other items you can stand to lose. Someone will most likely be delighted to purchase them from you either online or through a yard sale or flea marketing event.
You can also visit a pawnshop or a company that invests in purchasing used goods. For example, you can get rid of some of your items at a local flea market. Table rental is relatively inexpensive, and many people frequent such flea markets to find goods they can get good deals on.
Banks, payday lenders, and title loan lenders are also sources of money to support an investment such as a home renovation. Alternatively, you may want to request that your family member and friends assist you with your venture. Use all the money you obtain from these sources and add it to the budget for your renovation. Get a precise figure for the amount of money you have for your project and use it.
Think of Your Home's Appearance
Your home's appearance is an additional factor to consider before choosing roofing services to hire. Take a look at the overall appearance of your home and think about what you can do to improve it greatly. Putting a new roof on your home might add to the whole aesthetic in a way that makes your home more valuable or more pleasing for you to live in. Thus, you'll want to think about that as well. If you're planning to sell or market your home soon, it might be wise to do a renovation that includes putting a new roof on the property. New roofs can sometimes add luster to a home that homebuyers find rare and desirable. Keep that in mind as you decide what to do next, especially if you are seeking to profit from your actions.
You will need to find a number of reliable residential roof experts. These roofing contractors can give you an idea of how much changing the roof can affect the overall look. They will also talk to you about the different types of roofing materials they have and the benefits of each one. They will go over the pricing, the lifespan, and the advantages that choosing each type of roofing might give you as a consumer. Compare three to five providers during this process, and you will rarely go wrong.
Research Each Potential Provider Thoroughly
You will likely involve yourself with a new roofing provider for the service you need. You will need to do a considerable amount of research before hiring a provider for your projects. These are some tips for researching and finding contractors to decide which roofing services to hire:
Perform an Internet Search
The first step should be checking the search engine for the type of provider you need to see. You'll want to ensure that you use all available resources to get tips about which providers can help. You'll be able to list three to five residential roofing providers for your research.
Visit Websites
Visit the website of each provider to look at the service menu and what each one can offer you.
Compare Consumer Reviews
You'll want to pay highly close attention to the consumer reviews and read what current and former clients have to say about the provider you're interested in. That will help you to put all the potential providers in order according to which ones have the most positive reviews and highest star ratings.
Contact the Providers
Lastly, contact each provider and narrow your list down according to each provider's level of courtesy and knowledge on the matter. You should be able to find a provider that can assist.Now you know everything you need to consider before you hire a roof repair contractor to provide services for you. Use the tips mentioned above, and you should be immediately well on your way to having a gorgeous roof to enjoy.