What You Need to Know About Hosting a Large Outdoor Event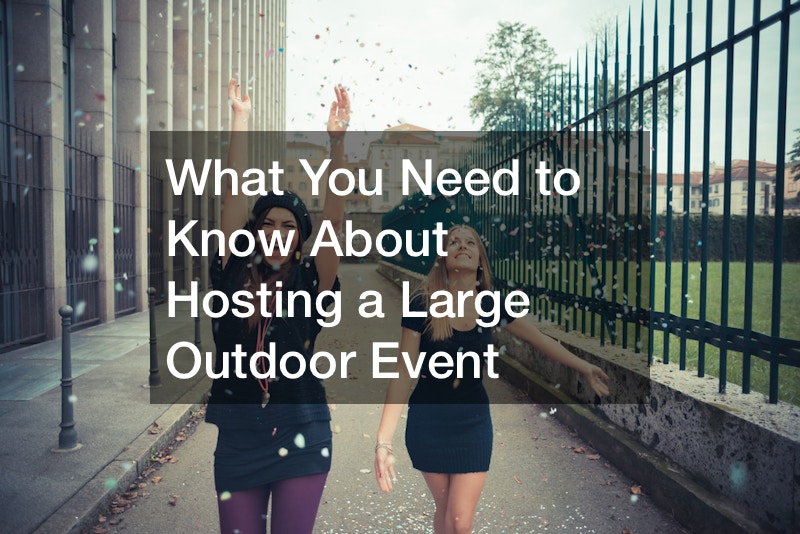 Event planning and execution is not for the faint at heart. The process requires rigorous planning, a budget, invitations, a suitable venue, and lots more before all is set for the date. This is only one of many reasons people trust event planners to help them achieve their goals because they are thus able to relax while all the stress of the planning is taken care of. An outdoor event is just one of many styles of events that need proper planning to be successful. Carry on reading, as this post has some tips on who to hire
Make Sure Your Guests Have Rest Room Access
Most events, whether indoors or outdoors, usually have food and beverages for the guests to enjoy. When those drinks want an exit, your guests will need a bathroom. You must ensure that portable toilets are available for your people. Portable lavatories are specially made for outdoor use and do not contain the same plumbing setup as home toilets or those plumbed inside offices.
Restroom trailers are another option for portable lavatories, and they are handy because they can accommodate more than one person while not occupying a massive amount of space to stand side by side. Trailers packed with restrooms can afford creature comforts like insulation and heat control to accommodate hot and cold weather while folks occupy it. These exterior toilets are neat and comfortable, much like regular toilets only; they move on wheels.
A few mentionable benefits of porta toilets include the following:
They are affordable – Most toilets are rented, and they don't cost as much as setting up a plumbed for the home toilet.
They are friendlier to the environment – They don't require a lot of water to dispose of waste and the waste system is effective. They also occupy less space and are only used as a temporary solution.
They help keep your guests comfortable – We have all been there and needing the toilet can make things uncomfortable and create a situation where you struggle to focus or think straight. Once you've relieved yourself in the bathroom, you'd feel much better. The same applies to your guests. After being in the restroom, they'll be able to enjoy the rest of the festivities with ease.
Privacy protection is guaranteed – Using an outdoor toilet allows your guest to use the bathroom and still enjoy the privacy otherwise achieved at an indoor toilet.
It's clean and takes less space – Another benefit of using the toilets outdoors when considering event planning and execution for an outdoor function is that they don't use too much space. If you have limited space outside, you can still have porta toilets as they occupy less while remaining one hundred percent private.
Rent Your Equipment and Save
So, perhaps you're hosting an outdoor gathering, and you may not have large tables and many chairs where your guests will sit to eat. Consider renting. Even simple things like a pergola with flowers and other props are leased to customers to help them get the best while not having to dock out money for a once-off purchase on something they might not use again. Many equipment rental services help you find the ideal items for your outdoor event, like weddings, birthdays, anniversaries, fundraisers, and more. These considerations are important for successful event planning and execution.
Benefits of getting rental services to assist you:
You'll find the tools and equipment to set up the venue.
It's more affordable to rent than to buy.
You can get the number of items you need by renting. Purchasing would be more expensive.
You may be able to choose from a variety of items, colors, and prices to suit your budget.
There's zero cost to maintain items since you don't own them.
You may get a deposit back if all the items are returned in one piece and not damaged.
You May Need Legal Advice
Did you know that event planners need to know some important aspects of law and regulations when hosting an outdoor event? Lawyers are especially skilled and trained to help clients practice their rights and get out of a bad situation with the best deal.
Why outdoor event planners need the help of the law includes but are not limited to the following:
Obtaining a business license to help the business operations so that it complies.
There are rules about hosting event planning and execution that need to be checked and abode by within every region.
Event planning requires the correct contacts to stay in business; if you do events, you will need the right client reach to help your business grow.
There should also be child policies in place since some events don't accommodate children, and if they do, there should be activities to keep them busy as well as childminders to look after them as the parents enjoy the event for the grownups.
Document the process because you may need the information at a later stage when you're moving house or doing anything else unrelated to event planning that requires legal documentation and planning for it to be successful.
Use Automation Because Many People Enjoy Mobile Business Convenience
If you have an auto cooking business, you will find auto business a lucrative solution. You can use your food truck or mobile kitchen to cater for the event. In this way, you can move your mobile business setup to any point you wish and still be able to feed hungry folks looking for something to munch at the event. If it isn't a food truck, you may be doing a manicure or mobile spa business, which will also come in handy for your attendees at the event you're having. If it's a wedding, the bridal party might get the nails and makeup done before the wedding outdoors begins. This is crucial to consider for successful event planning and execution.
The benefits of a mobile business include but are not limited to the following:
Less running costs.
Flexibility in ownership.
Reach more customers.
There is room to futureproof your business.
Creating Space For The Outdoor Event
If you're considering having an outdoor function, you may need to order land clearing services to help you prepare the venue. With event planning and execution you must consider many factors, for instance, the wedding is in a botanical garden. However, soon after that, a senior spring tea outdoors event is taking place too. The land cleaning services will need to clear up one event to prepare for the next one since the venue is scheduled and booked on a time basis.
The benefits of land cleaning include but are not limited to:
Saving time while one event transitions into the next.
You have a dedicated crew working on setting up everything.
All the arrangements are prepared in advance.
The venue will be spic and span.
Excess Renovation Cleanup
Your cleanup crew only has so much time and limits to clean up a place. Still, when there is a renovation or construction in a site where the large outdoor event will be hosted, you should make sure that roll off dumpster rental options are available. Renovations cause a lot of mess and access rubble, and to keep things clean and tidy, these dumpsters will help keep all the construction dumps in place and disposed of properly.
Benefits of roll off dumpster rentals:
Minimize hazardous debris.
Clean everything neatly.
Clears up space to work.
Creates a safer environment.
Select Your Furniture
Event planning and execution for your outdoor ado requires chairs and tables for your guests to sit comfortably. Since you're planning the event and need to tackle so many things, why not get the furniture delivery company to bring those trestle tables and chairs to the venue? In this way, you'll have one less thing to focus on.
What are the benefits of furniture being delivered to the venue and rented?
You won't pay full price but only the rental fee to have the furniture.
You don't have to make space for it to be on the premises permanently.
The company you're borrowing or purchasing from will bring the tables to you.
Eliminate Those Pests
You want everything to run smoothly at the outdoor event that you're painstakingly planning, and what more than pesky pests to put a damper on the jolly mood? Most importantly, while food and beverages will be served, you must consider taking the precautions of hiring exterminator services in your local area to help with this. You should also check with the local governing bodies about any laws related to the extermination of insects or pesky critters, as this isn't allowed in some parts of the world or regions. Check with your local authority in this regard.
The company you hire to help eliminate the pests may also use less harsh insecticide, which isn't harmful to humans and not as brutal to the pests. Some devices are designed only to deter the pests rather than kill them, and this works even better since insects and spiders keep the balance in our environment. Keep this in mind when you're figuring out event planning and execution of a successful gathering.
Staff Should Wear Protective Food Hygiene Gear
When you hire the catering company and staff serving, they would already be prepared to do a proper job, including wearing sanitary gear while preparing food and ensuring that all workspaces and kitchen areas are kept spotless.
Why hygiene protective gear matters.
Protect your guests against germs and food poisoning.
Protect against injuries due to kitchen accidents.
Sanitized environments prevent the spread of germs and microbes.
Safety shoes for the kitchen is beneficial for long hours on your feet and protection against spills and other accidents.
The Clean Up Crew
Since you are arranging event planning and execution, be mindful to consider getting help with cleaning. Outdoor events can sometimes get messy, especially with large crowds. For example, a musical concert or a band touring could easily see waste scattered on the ground outside as people drink and eat and forget to dispose of rubbish in the dust bin. Yep, that would not be a nice sight to behold. Also, have bins accessible for people to dispose of trash so that they don't resort to littering. Consider companies that provide some form of janitorial services to tackle everything from cleaning toilets and sweeping to mopping spills and making sure everything is as neat and clean as before the event began.
Why a clean-up crew matters:
They help ensure that everything is back to spick n span nature.
Things are clean and beautiful.
While the cleaning team does their work, you can focus on other important aspects of the event.
Hire Stretch Tent To Enjoy Indoors and Out
If the space allows, you can hire a large stretch tent. Stretch tents are perfect, and you and your guests can enjoy both the indoors and outdoors in case the weather changes. These tents can usually accommodate many guests, and you can choose one big enough to host everyone at the event
Stretch tents are handy:
Stretch tents are great for accommodating in extreme heat or cold weather.
They have that indoor/outdoor effect.
They look beautiful and can accommodate many people.
Catering and Staff
If the event is huge, then you may need hands-on service. Hiring a catering service with staff can make things easier when it comes to getting drinks out to the guests and serving snacks. Most people choose a buffet style since it allows everyone to choose what they prefer eating.
The Takeaway
If you're doing event planning and execution, then we hope that this article will help you plan and use these tips to your advantage. Events outdoors do not have to be stressful. Still, planning and executing an event perfectly is a stressful task. With the hired help you need, you have more time to enjoy the festivities and have peace of mind knowing that every aspect is taken care of.